Thursday, October 30, 2008
It's Raining Votes
Wednesday, October 29, 2008
The Gods Are Smiling on Philly!
Tuesday, October 28, 2008
Pass me the Bromo...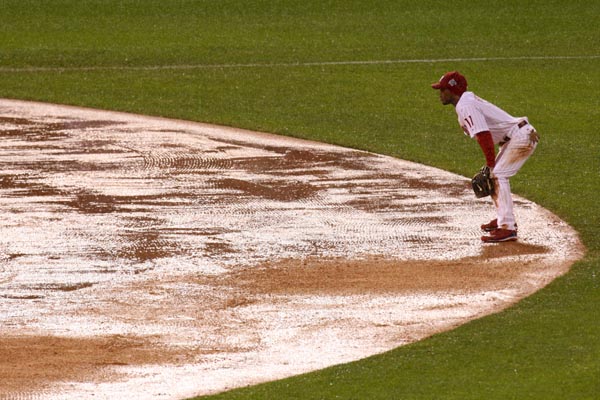 The
Big Four
, Politics, Baseball,
Fox TV
, and Paranoia all came together last night in Philly. In a game that should never even have started and then in a game that was peculiarly stopped half-way through an inning in which the Tampa Bay Rays were allowed to tie a game against the Phillies, Fear and Loathing officially opened a chapter in baseball.
Was it a coincidence that
McCain/Palin
flew into Philadelphia around 9:00 pm last night and then the rain at Citizens Bank Park really starting pouring down? Was it true about the unconfirmed reports of the (In The) Straight(s) Talk campaign plane circling the field before landing and seeding the clouds? Is it true that Major League Baseball Commissioner Bud Selig is one of the most stupid and socially challenged human beings ever to
don a sloppy suit
? Is it true about
Billy Penn's curse
? Will the Phillies, up 3-1 in games and needing just one more victory, collapse under the weight of Selig, McCain, Palin, and Fox TV jumping on them because the city favors Obama? Time for a Congressional investigation and for me to cut down on my coffee intake.
Labels: Philly
Monday, October 27, 2008
Meanwhile, Back Home...
Dis, Dat, or the Other
When You Don't Need...
Thursday, October 23, 2008
House Rich
Palin Curse. Phlyers Believe.
Thursday's NYT
What's Wrong With This Picture?
At Ease
Wednesday, October 22, 2008
Second Time Around
Tuesday, October 21, 2008
Is She Stupid or Deluded? Seriously. I'd Love to Know.
Matthew Ryan, Raw Voiced Wonder
Home Made Obama
Wednesday, October 15, 2008
Another Weekend
It's Over...
Tuesday, October 14, 2008
Canada, Philly Says, "Yo! Thanks!"
Monday, October 13, 2008
Hockey Mum
Thursday, October 09, 2008
The Iguanas
Wednesday, October 08, 2008
Doddering toward the Finish Line
Monday, October 06, 2008
Small Bear Blues
Friday, October 03, 2008
Change is Good?
99 Taboo Skidoo
Walking the Dog
Thursday, October 02, 2008
Falling Classically
Wednesday, October 01, 2008
Bon Voyage!
Eclectic Election Elucidations