Wednesday, August 10, 2005
Zube na Moru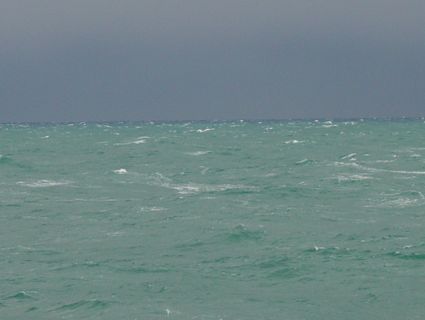 There are two principal winds here on the coast of Croatia.
One is
Jugo
. It blows in from the sea and then northward up the coast and usually brings rain and bad weather with it.
The other is
Bura
. It comes off of the land and blows southward down the coast, clearing up the sky and blowing the rain out toward Italy.
Because of the specific direction of the winds, it's easy enough for a weather clod like me to know which is which, especially when the winds lift up the few hairs left on my head and slant them in their direction.
While sitting at a cafe, alternatively sipping black no sugar espresso and a mineral water, another wind detection method was pointed out to me by my cousin's ever-knowledgable wife.
Zube na moru.
Literally,
Teeth on the Sea
.
Looking out at the Adriatic from our umbrellaed cafe in Crikvenica, you could see whitecapped small waves rolling down the coast.
"Little teeth", my cousin's wife noted, "coming to eat the bad weather away."
I responded with a nod to a slumping waiter.
"Drugi espresso..sa mineralnom".
One more espresso washed down with a mineral water. Maybe a biscuit to chomp down on as our eyes follow the Bura chomping on the rapidly dissolving inclemencies.
Labels: Croatia
Comments:
Post a Comment
<< Home
Verging on Pertinence
Just some more disposable thoughts clogging up the hinterlands