Thursday, July 22, 2004
Aural Luxury
When the Bose Acoustic Wave radio first came out 7-8 years ago, I'd immediately latched onto the free 30 day trial test offer. What was there to lose (except the cost of return UPS charges and a VERY SLOW crediting of my charge card process by Bose, Inc...nice cashflow ploy on their part)? The radio was delivered and set up as soon as I had done a couple of reps on the weight machine. The sucker weighed in at 15-20 pounds and felt heavier because it was such a compact size. Something this heavy and small just had to sound fantastic! Plugged it in. Inhaled. Tapped the power button. And...and...and a well-rounded sound of hiss and crackles came out. Seems like the Acoustic Wave arrived at my house but not the sound. Eventually, over a weekend of experimenting, I was able to get the radio signal to come in during a part of Saturday afternoon and on Sunday evening. After 30 days, I parted with the radio, unwilling to fork out $300 for an inconsistent signal receiving, albeit a great sounding inconsistent signal receiving, radio. After a few years, Bose added a cd player to their Wave.
Same 30 days trial. Same results (their improved signal reception model still needed improvement, at least to deal with my home's quirks). Great sound from the cd player..but $499 for a radio-cd player with a radio that hap-hazardly received a signal? The old Sony cd-clock-radio would just have to do, with its tinny sound and its self-appointed critic's ear which refused to play certain cds.
Then Cambridge Soundworks came along with their model# 740B. $299. Scraping together some birthday money scattered about, I ordered one of the black models on a Saturday and plugged it in on Tuesday night.
FM reception was almost dazzling (not clear all of the time). Cd sound was deep, rich, and thumping. Setting the stereo stylings to "Wide" notched up the sound to another level. The 740B delivered on all that the brochures promised and at 60% of the Bose Wave price. I find myself head-pillowed up in bed these days, listening and reading. Sure, I'm still lying around but the tv time has been reduced dramatically. Just one q. Why is AM reception always, always, always better in your car? Is there anything available to hook up the home AM antenna to quiet the hiss, pops, & crackles? My life of leisure would be complete.
Wednesday, July 21, 2004
Front Page Quandry
In the local paper yesterday, two articles regarding the same vehicular death,
Knobs band leader kills trooper and self
, appeared. Both articles were on the front page of two of the paper's section. The state trooper's was in the main section of the paper,while his killer's, via vehicular homicide,was in the local section. As a point of reference, the
Knobs
are, or were, a local Delaware r&r band founded by the DUI driver.
Not a good day to be the editor of
The News Journal
. Here was one person with a wife (via the high school sweetheart path), two kids, and a recent promotion, i.e., a young guy with his future pointing upwards, killed performing his duty as a police officer. On the other side was a guy with the patented musician's hard luck story who'd already clipped a woman 8-10 minutes earlier on his inebriated last tour, concluding his downward spiral by taking someone's life.
How much importance do you attach to these seperate lives now entwined in mutual deaths? I agree that Cpl Christopher Shea's, the state trooper, story be on the front page. It's fair and it concerns the victim of the accident. Having Philip Healy, the
Knobs
' leader's story in the paper that same day AND on the front page of the second section of the paper was a bit much. Perhaps waiting a few days and then tucking it on the back page of the local section would have been more appropriate. In the piece on Healy, there were the usual comments made by the friends as to what a great guy he was....how kind he was..how gentle...Give me a f'ing break! He was drunk enough to have two car accidents within 10 minutes. And this was at 2:00 in the morning when traffic is light! My heart goes out to Officer Shea's family. Healy's family, on the other hand, will have to deal with the shame of his damaging departure and the anguish it has unnecessarily caused.
The News Journal
? Another op for a blood-sucking article.
Friday, July 16, 2004
Future Prez Candidate?
In the tiny, but proud, state of Delaware the movement of our citizens is carefully monitored and reported. John Guare's
"Six Degrees of Seperation"
is translated to
"Two Degrees.."
for performance purposes here; it's the scale that we can relate to. In a recent issue of the state's largest newspaper,
"The News Journal"
, the following story appeared.
Delaware student gets lost in Connecticut
. The young man in question displayed some questionable behaviour brought on by a mighty hunger and the newspaper duly detailed the resulting travelogue. However, I thought the article was short on commentary... or compliments on the general demeanor and responsibility of this young man. In addition to the profuse apolgies offered by this college lad, other
George Washington
ian traits were displayed. Whether it was a by-product of the particular strain of fungi he'd ingested or a demostration of his own personal traits, the fact that he was so truthful struck me as pleasantly odd in this time of lying spinoramas heaped on us by our two political parties. Since criminal records will not eliminate one from thought of the presidency these days, I'm keeping my eye on this
Mr. Cunnigham
. He's only 21 years old. He has not hidden behind his father's or his family's protective cloak in this embarassing (but interesting) escapade, as someone we know had when he was driving under the influence. He actually seems to have been positively influenced by his out-of-body experience while touring the Northeast in a psylocibon cloud. The future of campaign stumping may lay with this escapade. The Republicans should take note.
Tuesday, July 13, 2004
Red is IT
In Sunday's NYT Book Review (right there on the front page) was
Thomas Hoving's take on
a book on Red Grooms, the populist artist that also appeals to the art-snob set. If Hoving's name sounds familiar, he may be bouncing in your head from the late 70's and 80's when He (according to Himself) single-handedly
saved MOMA
. Hoving makes the Donald seem like a wallflower, but that's another story.
His review
, while careful to include his own involvement, is so complimentary of both Mr. Grooms as well as this book, that it is Red Grooms who is the centerpiece of the article....as opposed to Mr. Hoving, Himself.
For anyone lucky enough to see a Red Grooms exhibition, this book will serve as a great trip down memory lane. For those who did not happen to be close to a city that held a celebration of his pieces (paintings, sculptures, etchings, life casts), please let this book serve as a smidgen of indication of his work. May it also help in persuading you to put seeing a Red Grooms collection on your "Must do before I depart the premises" list.
From
a short history
of Mr. Grooms.
Grooms was born in Nashville, Tennessee and studied at the Peabody College there. He moved on to the Art Institute of Chicago, the New School for Social Research in New York and then a summer school in Provincetown run by Hans Hofmann.

He initially came to prominence with his Happenings in New York in the late Fifties. By the 1960s he was working on mixed-media installations featuring garish figures taking over whole rooms. In some ways like a comic strip come to life these events established his reputation. He went on to create more ambitious projects often drawing on a team of collaborators including his wife Mimi Gross. Besides these 'environments', Grooms has produced many paintings characterised by their vivid colours and distinctive figures, and has worked with the filmmaker Rudolph Burckhardt on a number of occasions.

Grooms has been an active member of the art scene for over 40 years and is a mainstay of American culture whose work will help define the nature of our times for years to come.
This book goes onto my Amazon wishlist.
Wednesday, July 07, 2004
That Old Flag Issue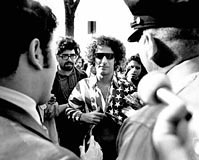 Back in the Stoned Ages of the '60's Mr. Abbie Hoffman, wearing a shirt with stars and stripes on the U.S. Capitol grounds in 1968, was arrested and charged with mutilating the American flag. Things were tense back then. There was an (unpopular) war going on. Kids were getting killed in Viet Nam for principles even some of their leaders did not believe in. It's good to know that, close to 40 years later, things have changed so much for the better!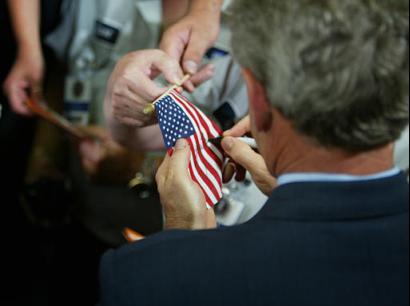 We are allowed to desecrate the flag without fear of repurcussions. We are in an unpopular war. Kids are dying in a foreign country for principles...hey, wait a minute...I thought things had changed? And if they hadn't, shouldn't this guy be, like, put away behind bars? Or maybe at least roughed up a bit for his careless treatment of our flag? Isn't that the flag our men & women are fighting for over there? Time to get Mr. Cheney and Mr. Ashcroft involved in this case; they'll set this guy straight.
Breathalyzer
With summertime and the chance to be outdoors sweating, throwing off CO2 to attract mosquitoes, lounging with a choice import brew or a domestic micro, thoughts of eating straight off the grill burgers and other meats waft through the air. Having taste buds ravaged by 3 alarm chili, thermonuclear heated pizzas, and flotillas of diner breakfasts it's now necessary that anything eaten for pleasure purposes, rather than reasons of sustenance, be injected with accoutrements of flavor. Foods that my elders ate to my astonishment when I was a tyke are in order! Pepper, garlic, onions...they are all honored guests. So, put away that breathalyzer. The car keys are sequestered safely. The front door has been locked. The grill's been packed with briquets and it's been lit. Let 40 minutes of time turn the little black pillows to white ash.
You've already hit the grocery store and picked up the following:
Potato Salad Ingredients
5 lbs of California White Potatoes (Russet or Golden will also do)
1 large Vidalia onion
1 large Red onion
Maldon salt
or any coarse French sea salt
1 bottle of five-colored peppercorns
1 bottle of wine vinegar
1 bottle of Olive Oil
(Hey! Any self respecting person not living in an efficiency would already have AT LEAST the last 4 items permanently stocked in their kitchen)
Hamburger Ingredients
2 lbs of a 1/3 beef, 1/3 veal, 1/3 pork ground meat concoction (usually described as Meatloaf Mix)
1 bottle balsamic vinegar (also should be part of your permanent stock)
Salt & peppercorns from above
1 bottle of sage (preferably Dalmatian sage)
1 bottle of tabasco sauce
Fresh thick-skinned Italian bread or Italian rolls (None of that squishy potato hamburger ilk)
1 large Vidalia onion (yes, another one)
This
outdoors meal (no, it cannot be eaten or prepared in the house, unless you enjoy crying, and as Wanda Sykes says about frying bacon, this meal is a long-term commitment because the smell would stay in the house for an extended period of time)is a true test of one's friendships. Your hands and your mouth will be registering high on the odoriforous scale. Invite only your compadres who you feel comfortable with sharing smells. If you suspect any of them to be incapable of eating this food, do not invite them for this meal...or even for the next couple of days. While you may take great pleasure in the eating, those not partaking will be pulling their shirts over their noses.
Amalgamating the ingredients
starts with the potato salad.
Clean (do not peel unless you really can't stand the potato skins) and cut the potatoes into medium size pieces, which you then throw into a boiling and salted pot of water. 15 minutes will do the trick.
Meanwhile, cut up the Vidalia and the red onions into the size you're most comfortable with eating. I prefer rings as it gives you a definite onion taste when you bite into them. Place the cut up onion into a large bowl.
Throw in 2-3 teaspoons of the Maldon or other sea salt.
Using a grinder or a mortar & pestle, grind up enough of the peppercorns to cover the onions in a black coat.
Splash in 1/4 cup of wine vinegar. Slosh the mixture around.
Pour in 1/3 - 1/2 cup of olive oil, depending on your love of bread dipping.
After the taters have boiled around for 15 minutes, drain them, gently slide them back into the pot, cover with cold water for 5 minutes, drain them again, and finally cut them into bite size pieces, choosing the shape you're most comfortable with, rounds or chunks.
Put the cut up potatoes in the bowl and GENTLY turn them through the onion/vinegar/oil sauce. The potatoes should be handled minimally to minimize breakage of shape. Use as large spoons as possible, short of your snow shovel.
You're done! Put the bowl aside, or in the fridge. This salad actually tastes better after a day sitting in its "stew", well...if you reallay love onions and pepper. You can throw in cut up garlic as well, if you're really ticked off at your next-door neighbour.
Burger Time
In a medium size mixing bowl,
Throw in all of the meat mixture
1 teaspoon of balsamic vinegar
2 teaspoons of dry sage
2 teaspoons salt
2 tablespoons of finely chopped Vidalia & red onions
Minimum of 2 teaspoons of ground pepper; you can add as much as you dare
Wash your hands!
Using all 10 digits, mix all of the ingredients thoroughly
Form fat little patties. Shape them in your hands; when you cup your hands together loosely you should feel the meat mixture on both the top and the bottom hands. You don't want any skinny flat Mcburger; you're shooting for a Rubenesque meat shape.
Wash your hands!
Burn time
With the delicacy of a bomb de-fuser, gently place the burgers on the grill.
8-10 minutes on first side
Flip
5-7 minutes on second side
If you've carefully followed the "shaping" instructions, the burgers will plump up. Onion & pepper airs will circle your grill.
Since there's pork in the burgers, "rare" and "medium-rare" is not where you want to end up. "Well-done" is the safest, as long as you're not carring the surface of the meat.
Combo time
Beer should have chilled in a large ice-filled bucket.
Lay out your mustard, relish, & ketchup.
Lay out a small bowl with finely chopped onions.
Bread should be cut up in slabs.
Don't forget knves and forks. The burgers are best eaten without sticking them into a bun or between bread slices.
Potato salad takes center stage.
A handipack of toothbrushes, toothpaste, and Listerine along with warm washclothes can be handed out at the completion of the meal.
Friday, July 02, 2004
Specializing One's Way to Absurdity
This bit from
UK's "Daily Record"
...
TANNING BUTLER Jun 5 2004
MEET THE MAN WITH THE WORLD'S BEST JOB
By Craig Mcqueen
"It sounds like the dream job for any red-blooded bloke.
A tanning butler whose sole task is to spend long, hot summer days rubbing sun lotion into the bronzed bodies of beautiful beach babes.
Michael Sheehan is the lucky guy who gets paid to massage figures in a way accountants can only dream of.
And the good news is that there is a vacancy about to open up for what is surely the best job in the world.
Every Thursday, Friday and Saturday Michael patrols the poolside at the exclusive Ritz-Carlton Hotel on Miami's South Beach, carrying a holster full of tanning products.
As well as applying the lotion, he offers expert advice on what products to use based on skin type and sunbathing habits."
I'm trying to make a joke about this, but I feel it's a wasted effort. Life in Florida is just one step from the brink.