Sunday, April 27, 2008
Unappetizing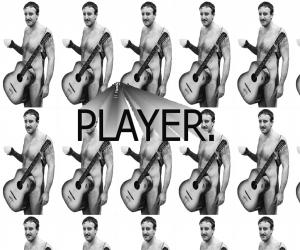 In today's NYT front page
Travel section article on nudists vacations
, some things stuck out (Bad Pun Alert! apologies, in advance). Attention all Naturalists, be ready to shed your attire and your (already de-valued) dollars as opportunities are cropping up for birthday suit holidays. One of the interesting things about the article is the picture. There are, count 'em, 13 people
sans maillot
, in the large picture and yet, miraculously, not one naughty bit. Well, a tail, yes, but not a bit. How'd the photographer do that? Photoshop and an electronic eraser?
"Lots of photos. Lots."
, quipped the ever-loving wife, who tartly added that the movement au natural was for
"people who want to love their bodies in spite of themselves."
In my more youthful days (or is that daze), I'd frequented nude beaches in Croatia and in Greece, so it's not from a non-participatory angle that I've approached this subject. While nude sunbathing is o.k., nude swimming is not something I'd recommend. Nor nude diving, as in "diving from cliffs". Trust me on this. How I've been able to have kids is a true miracle of Nature. An especially painful body-surfing episode on Crete's Red Beach (Yes,
that Red Beach
) sans Speedo let me know that a little bitty piece of cloth would have been most protective when a wave rises up to smash you face first into friction-laden rocks. The thing about youth and nudity was that gravity was a much kinder mistress back then. Also, the young engine required and processed instantly any caloric intake. No stations along the way situated on different parts of the body, waiting for the locomotive to pull in and take away the sedentary loads. Au natural, like youth, was wasted on the young. So, while my mind is still open to many new possibilities, the door has been closed on leaving my clothes behind. It is you, gentle readers, that I am concerned about. there is so much our eyes and our hearts can take at this point.
A well-placed ad,
Castaways Travel is selling a sail down the Danube in the nude, from Budapest to Vienna to Nuremberg, July 20 to 27, on a 75-cabin river boat. Rates from $2,199 to $2,799 a person (800-470-2020, danubeadultcruise).
, at the end of the article was actually the item that set me off about the whole naturalist thing. There you are, strolling along the banks of the Danube, perhaps just after having taking in a slice of the world's most famous chocolate cake, the
Original Sacher-Torte
at
Café Sacher
. What could make the
schlagge
in your stomach curdle more than an entire cruise ship of over-35 nudeniks stretching and kvetching? Could this be more off-putting than the plunge of the US dollar against the Euro? Cake and nudity, not a good mix.
Tuesday, April 22, 2008
Food-What you want. What you need.
Thursday, April 17, 2008
Hockey (Pronounced, "Haaaaacky!")
Monday, April 14, 2008
Why He'll Win in November
Sunday, April 13, 2008
April's Rain Brings With It It's Pain
Saturday, April 12, 2008
Who's your Googlegänger(s)?
Friday, April 11, 2008
Expenditure and Goodwill Erosion #2
Thursday, April 10, 2008
Quick on One's Financial Toes
Wednesday, April 09, 2008
Minus the Bear @ TLA April 8, 2008