Saturday, August 13, 2005
Conditional Safety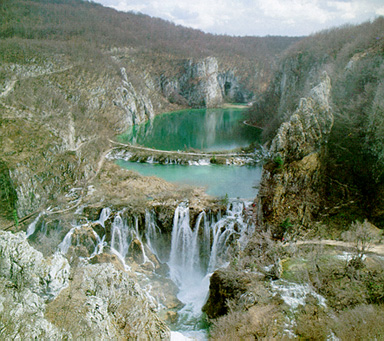 The Plitvicka Jezera (Plitvice Lakes National Park
) are located about 60 km off of the new four lane Zagreb-Split highway. We headed off from Zagreb on Monday, July 25th, having made it through the traditional Croatian aunt's breakfast campaign consisting of bread, salami, tomatoes, ham, ham type #2, ham type #3, salami version #2, homemade cheese of various varities, Turkish coffee, mineral water, homemade honey, butter (Class #1), marmalade, and more bread. Fried chicken, remnants from the flock of the previous night's dinner, was also available. My aunt and my mom, hobbit-sized women in perpetual animated motion, swirled around us doing the culinary two-step. Plates were filled, emptied, refilled. Any stop in our eating process brought sighs of worry from my aunt, always in fear we would collapse from hunger just as we made it out her front door. A plaque, "You eat therefore You love me" was the only piece of accoutrement missing from her kitchen.
My son adored the two of them. Having survived three years of college cafeteria dreck, the plentitude of taste brought to his plate here was a habit he had no problem getting into. Standing 6ft 2, he wrapped his orangutan arms around them, their heads touching his belly-button, as we prepared to depart...for the third time. Only our heads dipping toward naptime convinced the two of them that it truly was time to get on the road. Had we stayed another day there, our arrival in the Land of Gout would have been guaranteed.
As regards the importance of Plitvice during the conflict resulting from Croatia's split from Yugoslavia in the mid 1990's,
Zvonko Springer
wrote that the "PLITVICE LAKES region (had) been liberated during the Croatian police and military action code named "Tempest" early in August 1995. In a concentrated action this region has been cleared of all remaining hostile elements during fall 1995. In this thorough cleaning, specialists removed all kind of mines and explosives, arms and other dangerous caches in ground and on surface of the dense forests. All waters in lakes and brooks have been checked too - even many caves (some new ones have been discovered too) as well as all the waterfalls of the Park."
Labels: Croatia
Comments:
Post a Comment
<< Home
Verging on Pertinence
Just some more disposable thoughts clogging up the hinterlands