Monday, September 24, 2007
Your Disappearance is Duly Ticketed
Great 48 Hours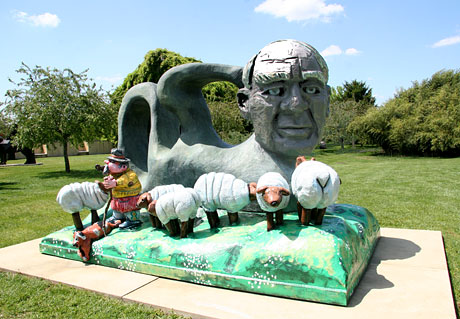 (
Link from Pamdora's Box, a blog, as the author puts it, of "Art Adventure". Great pix and descriptions.
)
I should know myself by now that if I'm asking, "Hey, should I bring the camera?", it is a rhetorical question to be always answered in the affirmative. This last weekend proved that point. Once again. The only solution is to repeat the weekend again. From start to finish.
The details.
A
friend
and his can-do-it-all-and-still-look-radiant wife were intimately involved with the production, fine-tuning, and composing of the musical,
Gemini, the Musical
at the
New York Musical Theater Festival
, going on in NYC from Sept. 17th through Oct. 7th. The ever-loving wife (
ELW
) and I arrived in NYC in the late morning, driving through unpredicted buckets of rain dumping inches of water as we wended our way through Delaware and Jersey. The same downpours caught up with us in NYC during the early afternoon prompting that instantaneous NYC phenomenon, the Umbrella Salesman. A photo op, if there ever was one accompanied by the post-downpour result one always sees in NYC, the
filled-to-the-gills trash can of temporary water protection
. I happened to be strolling by one such vendor when a tourist with a camera asked to take his picture.
"Five dollars", the umbrella-pusher said.
"Five bucks?"
"Yes, $5 and I'll throw in an umbrella with the picture."
The tourist pulled out a five, clicked a few quick pictures, and walked off opening an umbrella that soon caved in under the weight of some raindrops.
The rainstorm disappeared and the sidewalk swallowed up all of the 'brella merchants and their bags of merchandise. The only evidence they were ever there were the
packed trash cans
.
We meandered around
Thompson, Bleeker, Christopher, McDougal Streets
, among others, searching for CD/Record stores and cafes/restaurants. Every place was packed with folks who initially rushed in for weather protection and then stayed for drinks and observations.
Bleeker Street Records
had the largest selection and was low on the dinge factor. Not that I have anything against dinge if it's coupled with potential dirty jewels to be discovered. I was surprised by the reply I got when I asked one of the folks at Bleeker Street Records If I could listen to one CD, opened already, prior to buying it. It was an off-brand recording of a live Little Feat, form the mid-1970's when
Lowell George
was still alive and kicking; a recording I hadn't come upon before.
"Nope.", he replied.
"But, it's already open and you've got these CD players available.."
"Nope. And.." (anticipating my next question)"...we don't take returns. You could just burn a copy and how would we survive..."
I zoned out here as I completed the sentence in a low mumble,"...Why, by simply providing the simplest of customer services, I guess."
There were enough frothing clients in the place to counter my simple request, so I walked out without a purchase, an act so foreign to the ELW that we had to repair to a small cafe so she could sit, sip, and re-think her impression of my CD purchase mania.
Realizing that my out-of-character behavior was causing my wife to have doubts and resulting in us spending excessive amounts of cash on demitasses of espresso, i bolted over to
Generation Records
on Thompson Street and purchased an older English production of extended cuts of the Talking Heads. The world was back on its axis, the ELW's faith in her opinions were restored, and I had another CD to throw on the pile. Such a simple act of monetary exchange; so many issues resolved.
I was, until last Saturday, a mojito virgin. I've had the packaged mixes version which were, as expected, awful. In search of a meal before the show and given the opportunity to pick, we settled on the restaurant
Cuba
on Thompson Street, which just happened to be down the street from
Generation Records
. No better place, I figured, for an authentic mojito than a Cuban restaurant. The attentive wait-staff were impeccably dressed in
guayaberas
, the mojitos ($10) were sublime with a slow-acting kick, the appetizers and entres were fresh and delicious, and the seating was close without being confining (for the ladies: the bathrooms were spotless and private). We'll certainly go back again, perhaps for the Thursday Salsa night.
(to be cont'd.)
(
N.B.: As we were walking around this part of the Village looking for an eatery, I noticed that on Sept. 29th at Terra Blues Club on Bleeker Street, Mr. Clarence Spady, a blues musician out of Scranton, PA who hardly ever plays outside the Scranton area, will be playing. He's a terrific performer and this is a great chance to catch his act.
)
Labels: Trips
Friday, September 21, 2007
The Gloves are Down. Gordie Goes Legal
Monday, September 17, 2007
The CD That May Not Come Back
Sunday, September 16, 2007
Silica Flowers
Thursday, September 13, 2007
Pseudo Movie Review
Tuesday, September 11, 2007
Vinyl
Saturday, September 08, 2007
I, Receptionist
Friday, September 07, 2007
"...and I'll take any legal tender with a white man in the center"
Thursday, September 06, 2007
One Day in Philly