Monday, August 29, 2005
Black Puppy
Nuzzling the chin of the Black Puppy has been a daily activity for the past three weeks or so. Hard not totouch what seems so eager and innocent, when the alternative, no warmth & no fuzzies, lacks any appeal. When not sleeping, I'm thinking 6 hours ahead. Six hours being the time difference between here (the States) and there (Croatia). What matters for me, at least now, is what folks are doing over there at the same time, but 6 hours ahead on my dial. They're always ahead, enjoying their day long before I've had a chance to enjoy my own. It feels as if I'm sleepwalking through my days. Not especially good company for the ever-loving wife, who quips that I'm my former self twice removed, a shadow poking from room to room. A friend mentioned that her visits back home (in England) always left her thinking 5 hours ahead, upon her return to the States. That means she's one hour closer to the reality of being here and not back there. When I was much younger and making the return trips more often, no Black Puppies came to lick my face when I was stateside. Life was as it was and time was uniformly short. Now, I nervously look askance at the doorway, waiting for the first view of a wet nose. Jumping onto each day's activities offers attention-seeking opportunities. Anything to send off the sadness of seperation into the same envelope of lustrous holiday pictures. Just hoping my Black Puppy doesn't grow up to be a Dog; I'll keep on rubbing its ears while its eyes are only slightly doleful.
Re. the
Black Puppy
references, a diminutive of 'Black Dog', go to
Churchill's 'Black Dog'
, which came via
Searchblog
, which, in turn, was pointed out by
Bleak Mouse
, ever alert for a malady's lierary reference. Between
Bleak Mouse
and
Stephenesque
, one can easily read about the
blue devils
without succombing to the
vapours
.
Saturday, August 20, 2005
Le Chubby
The French may not have given us much lately except large helpings of merde, so it was a relief to see that, while they are not necessarily enjoying sharing the world with the USA, they are enjoying some of what we have to share with the world. Popa Chubby's newest release,
"Big Man, Big Guitar Popa Chubby Live
was recorded over 3 years and 3 engagements in the land of the Fleur de Lys. Live performances at Radio France in June, 2001 and February, 2002 were followed by one taped performance at Le Plan on March 27, 2004. There are no anti-American or anti-Dubya remarks between the songs; it's a straight fat note, long songs, original and cover songs, well-produced cd.
Mr. Horowitz, aka Popa Chubby, is the son of a Bronx candy store owning couple who loved jazz and r & b. He's a deep and long-time fan of
Freddy King
, a king of blues and r & b guitar instrumentals. Like Mr. King, Mr. Horowitz is neither slight of build nor blessed with a distinguished or memorable blues voice. However, he has a set of chops and he has a joy of playing that is immediate.
"Big Man, Big Guitar Popa Chubby Live
is a mix of well-recorded songs, including covers of Neil Young's "Motorcycle Mama", Leonard Cohen's "Hallelujah", and The Carter Family's "Keep on the Sunny Side". Intermixed are high-charged versions of his own songs from his various cd's, including "Dirty Lie", a tightly played "I Can't See the Light of Day", and a high-smiling "Sweet Goddess of Love & Beer". Only Popa Chubby and Mike Lattreel, on keyboards, are the constants. There are 3 different bass players and an equal amount of drummers. You won't notice a difference, save when one of the bass players, Galea, does a duet with Popa Chubby. There is nothing earth-shattering or life-changing here. There are your tried and true blues chords thrown in with r & b beats, all played cleanly and all melding together into tightly performed songs. No sloppiness or numbing meanderings that spoil so many live albums (Robert Randolph's
"Live at the Wetlands"
comes immediately to mind...it could have been such a great recording, if only...) But the effort is real and Popa Chubby's aim is true. As an end of summer cd, cranked up high in your car or on your back porch, you cannot get better. An ice cold beer, straight from the bucket, should be close to hand.
Some bio info (from his label, Blind Pig Records), including how Mr. Horowitz became
Popa Chubby is here
.
Friday, August 19, 2005
Adminstrative Note As time moves on, my entries about Croatia will disappear into the archives. I've set up a quick jog over to all of these entries on the menu side (on the right) for those interested in reading these entries. I've got about 4-5 additional blogs about the trip. They'll be dated in early August, so the easiest way to get to them will be from the Croatia: A Travelogue section. There are certainly other things to write about, although this trip had all the stars alligned. Such a combination of luck and timing will not happen again.

Wednesday, August 17, 2005
Curses ! ! !
The price of admission set me in the proper mood. Nine bucks! Early Saturday afternoon spent at the
Ritz East in Philly
. 9 dollars. Fortunately, my trip to Croatia had provided a cornucopia of cleverly constructed curses, which I proceeded to roll out in a talking-to-myself rendition. Croatian being what is, a language whose words are all bidding for a vowel, I sounded like a garbage disposal crushing shot glasses. Theater patrons scooted over 3-4 seats. Cell phone users creaked their necks checking for the static. I slumped into a seat, spinning a cocoon of ill will around myself.
The movie began. A documentary. Sort of. Paul Provenza and Penn Jillette's
"The Aristocrats"
starts with a simple premise. Get over a 100 of your buddies and have them "reminisce, analyze, deconstruct, and deliver their own versions of the world's dirtiest joke, an old burlesque routine, too extreme to be performed in public, called "The Aritocrats"."
The joke is a skelton; each comedian provides their own take to complete the body of the joke.
" A family goes to a talent agent and says, "You should see our act." The talent agent says "I don't hire family acts. Too cute." The family says "Give us two minutes. You'll want to hire us." The Talent Agent says "Okay. Two minutes." The family then begins the act ...

[At this point, the creative comedian tests his skills by inventing a long list of totally inappropriate behaviors for a family act to perform. Supposedly, comedians often tell this joke to each other, as a way of demonstrating how creative and outrageous they can be.]

The family wraps up with a big "Tada!" The Agent, who is now in a state of shock and bewilderment stammers out: "That's, uh, quite an act. What do you call yourselves?"

"The Aristocrats." "
Simple, right? The
cast of comics
is impressive. Enough teasers were thrown in as well; not all of the comedians delivered a version of the joke, notably Billy Connolly, Phyllis Diller, Harry Shearer, and Whoopi Goldberg. Most folks stayed through to the end to see if all of the comedians followed through. A few people left, particularly when Bob Saget and Rick Overton went through their deliveries. It was a bit much at times, an overkill of numbing verborrhea. Defecation, incest, bludgeoning, repetitive acts against nature can only go so far in the laugh department before it goes too far and the point of the joke is lost. At times, it was like a late night around the campfire with some extremely bored (and boring) cub scouts, each trying to out-gross the other.
But then there were pleasant surprises. Larry Storch (Yes! He of "F Troop" fame) was particularly funny as were Sarah Silverman, Penn & Teller, Fred Willard, Martin Mull (my personal favorite comic's version of the joke), Carrie Fisher, Mario Cantone, Kevin Pollack (delivering a dead-on Christopher Walken version of the tale), and Eric Mead.
It's worth a viewing. Not at the $9.00 I shelled out, though. Wait for the DVD, unless, of course, you want to enter the theater already in character for the movie.
Tuesday, August 16, 2005
Village Life
"No, not those ones"
, he pointed to a box of cigarettes with the warning label (loosely translated), "
May inhibit your potential and affect your growth
".
"The other ones...the ones with the "Proven by Science to kill you" label."
I was standing next in line, waiting to buy a paper and 3 liters of
2.8% milk
. He threw down some money and ripped off the cellophane from the box with his deeply-tanned spidery fingers.
While waiting for his change, he thumped the box hard on the counter.
"Gets all that cancer down toward the tip of the cigarette", he offered as reason and advice.
He proffered a cigarette. I delicately refused. He gave me that rueful look only a smoker can come up with when dealing with a non-smoker. That look that carried a "Think you're living longer than me?!" tone to it. Fire somehow appeared in his cupped left hand and he lit the butt he'd slipped into his mouth. He blew me the balance of his first drag. He gives me the once-over, bushy brown-blonde brow, a ledge over his piercing blue eyes.
"Milk?" As in, "What else could you expect of a non-smoker but the juice of a cow?". He excused himself. We didn't know each other but we knew we'd be seeing each other again and that would be shortly in this village.
It's a small place. You buy a cone with two balls of gelato (winter berry and stratiacella) at one end of town and you're finished and yearning for balls of tiramisu and hazelnut gelato before you're ¾ of the way through the village. Since your car hasn't moved since you'd arrived and walking is the most efficient way to get around and you are burning calories with your walking, well... a short bout of self-deception and you simply turn back to reload on the ice cream.
The village sits on the Adriatic at the bottom of a precipitous drop of the Biokovo mountain range. A tiny harbor runs the length of the village; some smaller fishing boats are anchored in chest-high waters. The water is clear and ranges from a hint of blue at beach's edge to a shimmery turquoise and finally to a dark blue where the depth drops off to 70 meters. There used to be a winding dirt road running down from the main highway. More like a trail, as it wasn't wide enough for two cars. Rather than setting an alternate and more logical course, the modernization of the road is evidenced simply by an asphalt coating of the trail. Some houses are right on the road.
On
the road. Evidence of late-night inebriated drives down to the village are seen in the missing chunks of the houses' wall corners. Sleeping in some of these bedrooms must require an absolute faith in your fellow man's reactions and their vehicles' turning radius. That or a few belts of rakija before you retire for the night.
The villagers and the tourists generally seem to know each other, like Alaskan grizzlies are acquainted with returning salmon. There's no biting, well at least not of the physical sort. You'll hear an occasional "Joj" or "Achhh", from the konobas (restaurants) parked on the beaches, as newly minted arrivals gape at the menus and take in the summer prices. So economic bites are being taken, at least from mid-June to late August. However, for most of the tourists there, surprises are minimal. They've been coming to this place for the past 10-15 years, so the uncalled for surliness of some of the villagers is not a surprise, simply an expected character flaw of this village. They shrug at the unkindness shown them and gaze out over the beach to the water and breath in the salty air sighing that it's all worth it, even with the lack of politeness. The villagers know their livelihood depends on these folks coming back. They jack up the prices for three months, counting on this one quarter's worth of income to carry them through the balance of the year. If it's possible to switch ambition on and off, it's proven here each summer. And yet, this sometimes uncivil behaviour toward your bread ticket strikes me as truly bizarre. The year-long residents act as if they're superior to their guests who are leagues away richer and more educated than them. In some ways, the villagers are having their cake and eating it too. And the tourists aren't complaining, well at least not loudly.
An aunt of mine has been coming here for well over 40 years. She has a house there, deliberately built by her husband with
only
village labor. Buying her food from the over-priced market, doing favors for the villagers, assisting them in their forays with the government, and having paid various villagers more than was honestly necessary to build the house would seem to qualify her for a full embrace into this village. And yet, she's still considered an outsider, although grudgingly approached when a favor is needed. Conditional inclusion.
It's an early weekday morning. The sun's been heating the house since about 5:30, waking us from a moonlit sleep. My cousin and his visiting friend invite me to their "office" for a morning cocktail. We slip on bathing suits, slap on some SPF 15 and scrape ourselves down to the village.
A couple has already toweled off a prime location on the beach. He's on his cell phone announcing his beach claim. His wife is lying face down, top off, feet barely touching the lapping water. Off the phone, he yells at his wife to "get me some tan." Her arm floats around the small rocks searching and finding the Nivea bottle, which she throws in his general direction. He picks up the bottle, takes five steps up the beach and parks himself in a café chair. A cappocinno's in order.
The three of us slip by his table and make the short trip on the rocks shielding the road out of town. About 100 meters and we're at my cousin's "office",
The Sahara Bar
. Music's playing, softly at first, then escalating. Afro
-Cuban All-Stars.
"Amor Verdadero", Puntillita on lead vocals. Croatian beach. Belgian beer. Cuban music. It's a sumptious fit.
Monday, August 15, 2005
Balkan Surprise
An article from the
July 2005 Outside Magazine issue
, written by a recent Cambridge University Masters of History grad and frequent
Outside
magazine contributor, Tim Sohn offered an excellent outsider's view of the beloved homeland. Here's the full article.
Reprinted from Outside Magazine
Balkan Surprise
by Tim Sohn
Welcome to Croatia, the melting pot of hot. Where East meets West, the old is new, the young are worldly-wise, the wilds are pristine, and the 20th-century shadows of war are giving way to a hip and happening 21st-century place to find peace.
by Tim Sohn
"IT'S NICE, NO?"
Tonci Lucic, my tall, scruffy, Game Boy–addicted host on the Croatian island of Hvar, is a disembodied but smiling head bobbing to the rhythm of the surf as we tread the warm cobalt water of the Adriatic. Above us, a 16th-century castle watches over a medieval town whose flower-bedecked alleys were laid out centuries ago by Venetian nobles. Just offshore, the Pakleni Otoci ("Satanic Islands") are visible, green hills jutting up through the placid water like a partially submerged Jolly Green Giant asleep in a tepid bathtub of electric-blue Kool-Aid.
Yes, it's nice.
"We usually swim every day, sometimes two times a day," Tonci tells me.
The Dalmatian island of Hvar is the sparkliest star in the thousand-plus-island constellation that sits in fixed orbit off Croatia's 1,104-mile Adriatic coast, a thin sliver of lavender-covered hills tumbling down to secluded coves where swimming is less a choice than a pleasant obligation.
I first met Tonci, a 30-year-old martial-arts enthusiast, skateboarder, and sometime innkeeper, because his wife, Teja Dittmeyer, looks fantastic in spandex. Toward the end of my first trip to Croatia, a ten-day early-autumn barnstorming of the Dalmatian coast, I disembarked from the ferry in the town of Hvar to the welcoming sight of a woman I inferred, from her blond pigtails and shrink-wrapped jogging outfit, to be a Swedish yoga instructor. She was an oasis of hot amid the mob of kindly-looking old women who typically greet travelers at docks and bus stations, offering rooms for rent in their quaint homes. I had come to rely on such offers for lodging, but somehow, on that day, the spandex was a stronger sales pitch. It wasn't until Teja handed me off to Tonci and went in search of other customers to install in their tastefully renovated, centuries-old stone house that I realized I'd been the victim of a classic bait and switch, but one that would prove yet again how skillfully the fates of Croatia traffic in the happy accident.
Over the course of that first trip and a subsequent four-week journey, I traveled by boat, bus, train, scooter, bike, car, kayak, foot, and donkey. I spent a morning hiking in the hills above Dubrovnik and still made it back to the beach for a lazy afternoon swim. I walked through the remnants of Roman palaces and Napoleonic forts and visited cathedrals and museums and castles. I walked mountain trails and poked my head into limestone caves and gazed out over former minefields. I ate Italian food as good as any I've had in Italy and heard my voice echo through the empty concrete caverns of decommissioned Yugoslav missile silos.
By the time I emerged from my swim that day, Tonci was wearing boardshorts and a baseball cap and was already fiddling away on his Game Boy. His feet were propped up against a fading row of cinder-block cabanas, while his dog, Hajdi, lolled at his side in the warmth of one of the island's 300 or so days of annual sunshine. The whole tableau belied Tonci's true identity as a budding tourism mogul.
"This year, we have two rooms and two boats to rent," he told me, pausing the game to elaborate his business plan. "Next year, maybe four rooms and four boats, and then little by little we grow bigger and save money and then maybe we build our dream place." As he described this solar-powered, self-sufficient lodge complete with organic farm, art gallery, and skateboard halfpipe, I entertained a small fantasy: I would pack up my life, move to Hvar, and help him build it—in exchange for my own hammock, perhaps.
"But for now," he said, putting down the Game Boy, flashing a big smile, and cutting my daydream short, "let's go for a swim."
GIVEN THE TENDENCY of disaster zones to be nudged off world television screens and into obscurity once the disaster abates, the average American might still have trouble finding this small, horseshoe-shaped Balkan nation of about 4.5 million people on a map. They would probably have more success conjuring a CNN-derived mental picture of the Balkan conflict of the early 1990s. Since the war ended, in 1995, Croatia has become increasingly democratic, moving toward economic recovery and integration with the rest of Europe.
The integration has been happening, on a more informal level, for the past decade as savvy European travelers have rediscovered this former playground of the Central European elite. In 2004, 7.9 million foreign visitors arrived in Croatia, an amazing rebound from the 1995 postwar nadir of 1.3 million. Tourism has become the golden-egg-laying goose of the sagging Croatian economy, accounting for 23 percent of Croatia's GDP and 27 percent of its total employment.
The first tourists to return were the Austrians, Germans, and Italians, the neighbors who had historically made up the bulk of the nudists and fashion plates who flocked to the resorts of the Adriatic coast. Lately there have been more Scandinavians, French, and Brits as word has spread that, for a country smaller than Maine, there's a hell of a lot more to do here than get a tan.
The obvious advantages of the Latin-infused coastal regions—most of the coast was once part of the Roman Empire and later fell under the sway of Venice—have long made it a favorite of sailors, divers, and fishermen, and that roster has grown to include sea kayakers, windsurfers, and paragliders. And from the Istrian Peninsula in the north through the Dalmatian coast and islands to Dubrovnik in the south, the region's karstic geology has produced a stunning array of cliffs, peaks, and caves. Northern Velebit, Paklenica, and Biokovo parks are all prime pieces of waterfront real estate, offering hiking, climbing, caving, and camping, while the Cetina River, one of several southern Dalmatian waterways, has become a popular Class III–IV whitewater run. Though the Germanic-tinged north is better known for its fairy-tale hilltop castles, there's plenty of hiking and biking to be had in the Zagorje region, north of Zagreb—plus a good lager or wurst is never far off. And almost everywhere, you'll be offered strong Turkish coffee, a reminder that during the 16th century the thin line between Western Europe and the expansionary tendencies of the Ottoman Empire ran through Croatia.
As the rediscovery of Croatia has gathered steam, the European press has dabbled in some selective rebranding. The coast has been called the "New Riviera" and Dubrovnik the "New St. Tropez"; the Istrian Peninsula, close to Italy, has been labeled a "New Tuscany"; and Zagreb has, like every other good-looking but peripheral Central or Eastern European capital, been dubbed a "New Prague." And all of this glamour is not without precedent: A little hype is nothing new on a coast that once hosted vacationing Hapsburgs and cultural luminaries such as Gustav Mahler, Vladimir Nabokov, James Joyce, and Anton Chekhov. The tabloid-worthy roster of recent visitors includes Steven Spielberg, John Malkovich, and Andre Agassi; Tom Cruise's yacht reportedly docked off of Hvar last year; and Clint Eastwood and Robert De Niro are rumored to have shopped for their own private islands.
What's old, it seems, is new again.
THOUGH NOT COMMONLY recognized by economists as an index of affluence, sunglasses seem to me as able a barometer as any of a city's relative prosperity. Strolling the streets of Zagreb, Croatia's stately capital of 800,000 people, on a sunny Saturday morning, wearing normal prescription eyeglasses, I felt naked, exposed as a foreigner. Drawn toward a dull roar of eager conversation, yapping lap dogs, and laughing children, I wound up on Tkalciceva, the wide pedestrian thoroughfare between Kaptol and Gradec, the two ancient hills that flank the city's historic center. The outdoor café tables were filled with the sort of earnest capitalists, hip young people, and occasional
slick-haired gangstrepreneur who constitute the new bourgeoisie of many post-communist cities, and at every table, evidence of the city's resurgent postwar fortunes sat astride their noses. These promenading locals viewed their lives through Armani, Dolce & Gabbana, Gucci, and Prada lenses.
It's not just sunglasses: The BMWs, Audis, and Benzes, the cell phones, the iPods, and the new office blocks all bespoke a city on the rise. But even as I toured modern-art galleries, partied at swank clubs to records spun by Italian DJs, flipped through the Croatian translation of Bill Clinton's autobiography (Moj Zivot) at a local bookstore, and drank coffee with Croatian students eager to correct my misconceptions about their nation, the past was never far off. Colliding with all this newness, the city's grand buildings, wide boulevards, exquisite churches, and fine museums imbue it with the dignified feel of Vienna and the lost grandeur of Mitteleuropa.
That such cosmopolitan urbanity both exists in Croatia and mingles freely with the country's pastoral charm does not surprise Croatians; what surprises them is how slow the rest of the world has been to catch on. While the continuing reliance on small-scale fishing and agriculture is everywhere visible, any Croatian schoolchild can tell you that his country is the birthplace of various Roman emperors, inventor Nikola Tesla, the modern necktie, and the mechanical pencil. Lately, it has been their sporting heroes who have brought Croatia back to the world's attention, from Janica Kostelic tearing up the World Cup skiing circuit to Ivan Ljubicic leading a team of tennis upstarts in taking down the U.S. Davis Cup team this past winter.
And recently, eager males the world over have been heard uttering the same phrase: "I hear the women in Croatia are hot." Indeed.
Famed for its charming, set-piece beauty, Dubrovnik seemed an appropriate backdrop for testing this rumor. This seaside city of 30,000 people punctuates the coast and is centered around a historic walled core that's been designated a UNESCO World Heritage Site.
Its car-free corridors and imposingly uniform stone buildings serve as reminders of the maritime-derived wealth amassed between the 15th and 17th centuries. Though besieged and shelled by Serb forces in 1991, the proud city has reclaimed its former role as a magnet for the chic and glamorous.
One night last fall, an English friend and I fell in with the crowd promenading along the Stradun, a pedestrianized artery occupying what was once a channel separating the island of Laus from the mainland. We eventually migrated to a narrow, cobbled alleyway, an archaic space crammed with smartly dressed young people, the overflow from several dimly lit bars. Choosing one at random, we squeezed into the small entryway just inside the door, only to be ambushed by an impenetrable wall of hotness—in front of us, packed like sardines in a can, was a sea of leggy, sharp-featured women whose glowing eyes sized up our disheveled exteriors and dismissed us in the same nanosecond. It is likely that these women spoke perfect English. Unfortunately, we never found out: Having embarrassed ourselves by doing everything short of rubbing our eyes in disbelief, we beat a retreat to the alley and ordered beers from a passing waiter.
"Wow. Stunning," said my friend, Howard, after we'd exited the unnamed bar and caught our breath. Later, in our numerous retellings of the incident, it would become known as "the Honeypot."
When I returned to Dubrovnik four months later, the seasonal crowds had mostly gone, and, with them, the nightlife. When I tried once again to locate the bar of plenty, I could not. But there were still gleaming BMWs alongside ailing Yugos, ancient rowboats berthed next to million-dollar yachts in the marina. And I did meet Esme, a soft-spoken middle-aged woman who rented me a beautiful studio apartment just off the Stradun for $15 a night. On my last evening, as I stood high above the city on top of the ruins of a fort built by Napoleon and watched the sun set over the red-tiled roofs and the Adriatic beyond, I didn't really miss the Honeypot.
But if I go back to Dubrovnik, I might try to find it again.
"THERE ARE NO new things on this island," declared Pino Vojkovic, 29, the ponytailed founder of an adventure travel agency called Alternatura, as we stood atop 1,926-foot Mount Hum, the highest point on his home island of Vis. Surveying this remote Croatian isle, about 15 miles west of Hvar, I thought it looked like a place that would make a fine hideout for a Bond villain—craggy, remote, mountainous, and riddled with caves.
"Everything here is a little... sleepy," Pino told me, and, after two days of being lulled by its slow-motion pace, I had to agree.
Still, he had just finished telling me that he and his paragliding friends liked to jump off the spot we were standing on, catch the rising thermal draft, and soar out over the water before gliding down to his hometown, the fishing village of Komiza. He had shown me a video of it that morning on his laptop, telling me that his agency organizes a paragliding festival every December and that he offers sea-kayaking, trekking, scuba-diving, and boat trips to nearby islets. Surely these things must qualify as novelties on an island of farmers and fishermen that was closed to outsiders until 1990 due to its strategic importance as a Yugoslav military base. And even Pino himself is the embodiment of something new.
"Another way of tourism is becoming more popular: outdoor trips, adventure, aromatherapy... and I don't know what," Pino told me, trailing off and chuckling to himself, seemingly over the prospect of aromatherapy. "But our government and bureaucracy are very afraid of new things. They are stuck in the old way, so they do not see this yet, but soon they will have to."
Zeljko Kelemen, 52, the elder statesman of the Croatian outdoor scene, has been instrumental in helping people understand the potential of adventure tourism in Croatia. A former competitive kayaker, he now owns Croatia's oldest and largest outdoor outfitter, Huck Finn Adventure Travel. In the early 1990s, Zeljko began offering a few rafting trips that drew a steady clientele of UN peacekeepers.
"The biggest problem we have is adventure illiteracy," Zeljko told me in his storefront office on the south side of Zagreb, his new VW van parked outside with two yellow kayaks on top. "Most people have no idea what is caving, kayaking, canoeing, rafting.
"When we first started with sea kayaking near Dubrovnik, the locals saw us and said, 'These must be poor people who have no money to pay for a nice motorboat,' " he recalled, "but gradually they realized that even though our clients are in kayaks, they are eating at the best restaurants, they are spending money, and then it started changing their idea of adventure tourism. It just takes time."
And though it needs a little more time to ripen, the Croatian outdoor scene is coming of age. For example, visitation to Paklenica National Park, a popular rock-climbing and hiking area midway down the Dalmatian coast, has increased from 30,000 visitors in 1990 to 105,000 in 2004. While the first adventure race drew only blank stares five years ago, there are now ten or so annually. And the tourist board's adventure travel brochure listed 40 agencies offering outdoor trips in 2001; by 2004, that number had grown to 120. By virtue of his expertise, contacts, and experience, Zeljko sits at the apex of this nascent network of outdoor operators—but not everyone gets what the younger generation is trying to do.
On my final morning in Komiza, on the island of Vis, I sat in a smoke-filled café with Pino and his childhood friend and business partner Zvonko Brajcic, 29, known universally as Dado.
"Here, if you are young, the older generation thinks you don't know too much, and so they don't give you the opportunity, and the banks won't give you loans," Dado said. "So the only capital we have is our enthusiasm and our ability to work."
"Enthusiasm," interjected Pino with a snort, venting a bit of his frustration at having to turn his office into a video-rental shop during the winter months to make ends meet. "Now it is all enthusiasm and not enough doing, but we cannot eat enthusiasm."
As I was leaving to catch a ferry back to the mainland, Dado produced an apt parable.
"The boats in Komiza," he told me, "were always painted black. Then one guy a hundred years ago painted his white, and the others laughed. But then they saw that he sleeps well and is not so hot and they did the same. Now all the boats are painted white—and this is how new ideas go here: very slowly."
AFTER WEEKS OF GOING very slowly myself—lazily sipping espresso at café tables, lapping up the drowsy pace of island life, and too frequently accepting offers of home-brewed alcohols—I was in no shape for a hike.
Of course, by the time I realized that, I was following three fit Croatians up a stone path heading toward a mountain hut in 23,722-acre Paklenica National Park, whose 90 miles of hiking trails are less than an hour from the coastal city of Zadar. The path followed a sparkling stream overshadowed by Croatia's fourth-highest peak, Vaganski, a 5,767-foot limestone outcrop. We were sandwiched by soaring limestone walls spackled with the bolts of some of the 500-odd sport-climbing routes that drew 40,000 climbers last year.
As we walked, my three guides—Marijan Buzov, 30, a national-park ranger who recently started an outfitting business; his wife and business partner, Irena, 28; and their 33-year-old friend Jana Mijailovic—all members of the Paklenica Mountaineering Club of Zadar, explained the development of the Croatian outdoor scene while their dogs, Dingy and Frodo, flitted in and out of sight.
"Ecology was not a word we knew in the old system," Marijan explained, "but our natural environment is the one good thing we have left from communism: We didn't have the money to destroy our nature, so we have that—clear water, beautiful parks and mountains—and it makes us competitive with other Mediterranean countries."
When we arrived at the hut two hours later, my guides began to extract onions, potatoes, cheese, ham, salami, baguettes, a whole chicken, and two six-packs of beer from their packs. I was doubly shamed, as mine contained little more than a notebook, a camera, a sleeping bag they had lent me, and some lint. Luckily, the hut was a well-provisioned two-story affair of brown logs, gray stones, and red shutters, with a smoking chimney and laundry fluttering on a clothesline strung across the second-story porch.
Inside was a square card table in front of a woodstove where four men of varying ages sat and played dice while drinking a constant stream of dark coffee and smoking an equally steady supply of cigarettes rolled from a shoebox full of loose tobacco. The ringleader of their typically operatic Croatian conversation, who was also the hut's caretaker, resembled a cross between Walt Whitman and Charles Manson, a smallish man with a quick smile and a kindly face framed by a graying goatee and a rat's nest of shoulder-length salt-and-pepper hair. He wore slippers even when venturing outside to fetch firewood or check on the water-wheel that powered the hut's few dangling lightbulbs. Occasionally, he took a moment out from the table to talk to his dog, and one could be forgiven for thinking he was asking her advice on some finer point.
"They look crazy," said Jana, nodding toward the table when she saw me looking at them. By then we were eating a delicious meal that she'd prepared for us by burying a Dutch-oven-like dish called a peka in the coals of the smokehouse outside for half an hour. "But they're really not."
As if on cue, the men broke into a chaotic song that mirrored their conversation, which was itself a well-practiced four-part harmony of shouting and laughing, gesticulating and knee slapping. It looked and sounded exhausting and seemed a validation of what I had come to see as the indivisible trinity of Croatian-male life: coffee, cigarettes, and conversation.
"What are they talking about?" I asked, expecting tales of sorrow, passion, ideals, politics, humor, or perhaps sports.
"Nothing, really," replied Irena.
The next morning, Marijan and I sat outside the hut at a picnic table, drinking coffee and discussing the past, present, and future of Croatia as the sun rose above us and illuminated the peaks higher in the valley. The dice players of the evening before had set to work clearing a nearby hillside of brush, stacking what they'd cut into big piles to be burned later. Their working pace seemed regulated by the same metronomic beat as their dice game: a few minutes of concentrated work followed by a cigarette break, during which they took their shirts off, sat in the sun on rocks and stumps, and resumed their conversation. I kept one ear on them as Marijan talked, but his purposeful English won out over their jolly mayhem.
"You know what's the really good thing about Croatia?" asked Marijan, surveying the scene while taking a long drag from his cigarette and offering me one. "People can still be surprised here."
Labels: Croatia
Sunday, August 14, 2005
An Opinionated Guide
While traveling through the Land of Croats, we packed along three guide books. Although I've been back quite a few times, I opted for some guidance as it provided reading matter for the non-Croatian speaking folks in our party. It was also interesting to read a non-native's takes and observational notes on events, places, and general behaviour in Croatia, especially for me, a guy caught between calling both the States and Croatia "home".
Rough Guide to Croatia
was the first of three books purchased. There are additional guidebooks available besides these, some like the
Eyewitness Travel series
dealing with Croatia, have considerable more pictures (gorogeous pictures, in fact). However, for our trip, we opted for written versus photo information.
Another book,
Lonely Planet Guide to Croatia
, is a good filler book. I found the hotel info somewhat outdated and the descriptions of places too short. If you have some extra space, it's worth considering but if space is an issue.....
Bought almost as an afterthought, in fact just a few days before departure,
Croatia:The Bradt Travel Guide (2nd Edition)
proved to be the book I read the most often. The author,
Piers Letcher,
has a tongue-in-cheek, but not world-weary, manner of writing. Considering that speaking to a Croatian eventually involves having your leg pulled, Mr. Letcher sets the proper tone for a visit there.
Letcher's book is physically the largest of the three and it wasn't as handy to be reading in one paw while rummaging for change or film in one's pockets with the other paw. Carrying all three at once in a backpack or messenger's bag wasn't a chore; it was always interesting handing out one book to three people and have them read out loud the entries for a specific place. Letcher's book came ouot on top for
both
public and private readings. Occasional stops at cafes to rest the soles and the souls were made more enjoyable having access to all three books. With the kids, having a choice proved well worth the negligible additional weight and bulk. Besdies, one book didn't cover all of the bases and being able to cross-reference sites or cities gave an air of deep thought and precise decision-making to our destination and activity choices. We impressed our relatives with our knowledge of picayune and esoteric factoids of Croatia. The price of all three books was worth leaving them thus impressed. One learns relatively early in a trip here that it's best to have opinions, loud ones, to leave memorable portraits of oneself. If those opinions are actually based on facts, published facts, all the better. You'll be way ahead of all of the other opinors.
Addendum: June 2008. My only complaint about Mr. Letcher is that, in exchange for favorable reviews on the USA and the UK Amazon.com sites for his 2nd edition, he e-mailed me to say he'd include me in his credits for the 3rd edition. Small thing, yes. Well, the
3rd version
came out and no mention of yours truly. A minor bummer; I would still recommend his book strongly.
Labels: Croatia
Saturday, August 13, 2005
Conditional Safety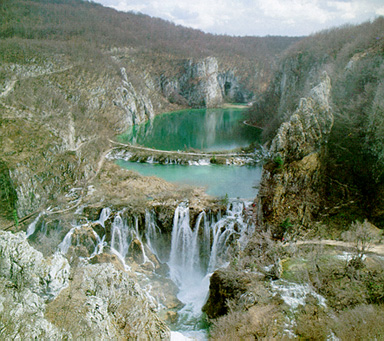 The Plitvicka Jezera (Plitvice Lakes National Park
) are located about 60 km off of the new four lane Zagreb-Split highway. We headed off from Zagreb on Monday, July 25th, having made it through the traditional Croatian aunt's breakfast campaign consisting of bread, salami, tomatoes, ham, ham type #2, ham type #3, salami version #2, homemade cheese of various varities, Turkish coffee, mineral water, homemade honey, butter (Class #1), marmalade, and more bread. Fried chicken, remnants from the flock of the previous night's dinner, was also available. My aunt and my mom, hobbit-sized women in perpetual animated motion, swirled around us doing the culinary two-step. Plates were filled, emptied, refilled. Any stop in our eating process brought sighs of worry from my aunt, always in fear we would collapse from hunger just as we made it out her front door. A plaque, "You eat therefore You love me" was the only piece of accoutrement missing from her kitchen.
My son adored the two of them. Having survived three years of college cafeteria dreck, the plentitude of taste brought to his plate here was a habit he had no problem getting into. Standing 6ft 2, he wrapped his orangutan arms around them, their heads touching his belly-button, as we prepared to depart...for the third time. Only our heads dipping toward naptime convinced the two of them that it truly was time to get on the road. Had we stayed another day there, our arrival in the Land of Gout would have been guaranteed.
As regards the importance of Plitvice during the conflict resulting from Croatia's split from Yugoslavia in the mid 1990's,
Zvonko Springer
wrote that the "PLITVICE LAKES region (had) been liberated during the Croatian police and military action code named "Tempest" early in August 1995. In a concentrated action this region has been cleared of all remaining hostile elements during fall 1995. In this thorough cleaning, specialists removed all kind of mines and explosives, arms and other dangerous caches in ground and on surface of the dense forests. All waters in lakes and brooks have been checked too - even many caves (some new ones have been discovered too) as well as all the waterfalls of the Park."
Labels: Croatia
Friday, August 12, 2005
To Spee-do or to Spee-don't
At some point in quite a few Comedy Central routines, some guy (it's ALWAYS a guy) will make some (seemingly) knowing remark about how the ugliest thing they've ever seen was a guy in Speedos. Even Lewis Black, a with-it urban cosmopolitan kind –of guy, once quipped that there is no discernible reason for a man to be squeezed into a Speedo save for the possibility that he wanted to empathize with an Italian sausage. Personally, I'd always felt uncomfortable hearing these throwaway jokes as I'd always felt comfortable wearing Speedos, well at least in my callow unburdened skinny youth. What could be better for sun & water than a swim suit that fits in your pocket without a bulge? Fast to dry. Light in the water. Like a second skin when you swam, walked, or lay down. I had tried the derigeur jeans cut-offs or surfer trunks of my days. Chafing! And when they were wet, it felt I was lugging my week's laundry around my waist. Coming out of the water after a few hours worth of Jersey body-surfing left me loaded down with buckets of sand in my pockets. Worst of all, these suits never dried out. I never understood this uniquely American outlook on swimwear. Speedos were assumed to be only meant for true swimmers plying their trade in early morning Olympic pool monotonously tortuous swims. This would have made sense to me if that same logic applied to athletic footwear. But, everywhere I looked there were mastadons in cross-trainers or vertically-challenged loungewear acts in basketball shoes. None of these folks went to a gym, unless there was popcorn being served or a game to be watched. Some personal self-awareness seemed to be in order. That, or a surer sense of one's manliness.
This American view of things became quite apparent in my recent trip to the Land of Croats. Women of all ages lounged around topped or topless, no one standing around ogling or nervously sweating. Men of all ages and sizes parked themselves on the rocky beaches or just plain rocks, Speedoed to the minimum. Were weight problems unknown here? No, absolutely not. One did notice that the obesity levels moaned about in the States were definitely not evident here, but there were folks that were obviously enjoying their
Frankopanska Torta
. But all seemed comfortable in their nylon, maximizing their exposed body tissue exposure toward the Adriatic sun. Those folks blessed either with an incredible body metabolism or/and a rigorous workout routine made the wearing of the minimal a pleasant sight to behold. And most of these folks (who seemed to outnumber we of the walrus descendants), had that self-knighted touch of pride about their appearance. Who could fault them? They were part of the beauty that was the Croatian Riviera.
Me? Sadly, I'd become more Americanized than I had feared. I was sporting a Nautica swimsuit that had enough cloth to set sail a small boat. As
Lowell George
said, "There's a Fat Man in the Bathtub and he's got the Blues." Next time around, it'll be the gentlemanly dark blue Speedo for me….mit Schlagge.
Labels: Croatia
Thursday, August 11, 2005
Cliff Driving
A
Peugeot 407 Euro-Diesel station wagon
is what we ended up with when we landed at Zagreb's airport. Due to some mixup, our originally promised Opel Vectra S/W was already doled out.
"Would we mind taking the Peugeot? Same price?", we were asked.
No arm-twisting necessary! Diesel motor. Five speed manual trans. High torque. Bigger and roomier than the Opel. No, no further thought was needed. Only 4k km on the odometer. Magnificently long moon roof.
We piled in the luggage as quickly as possible and drove off before the rental agency changed its mind.
Driving on the newly completed (June 24,2005)
Zagreb-Split highway
was a major positive impression. A drive that had taken 12-15 hours before was now cut down to 4 hours. Average posted speed was 130 km/hr (roughly 80mph) and the majority of the highway was
2 lanes in each direction
. When talking with the natives, once safely past the touchy subject of the drubbings a
Hungarian soccer team
had pasted onto the (Dalmatian, specifically Split)
soccer team "Hajduk"
in the past week, they were most likely to engage you in conversation regarding the Zagreb-Split highway. This road's future existence had been discussed back in the days of Tito and Southern Slav Unity. I recalled national lotteries held to raise money for this transportation concept. People were buying Loto tickets so money could be raised for a road on which they would be paying tolls for the pleasure of driving on them. Years later, the NFL latched onto this concept when they created stadium seat licensing, which allowed a rabid fan to pay for the opportunity to pay for a seat. For the highway to actually exist and to be successful is an incredible source of pride for most Croatians. However, as in most things Croatian, pride is soon joined by cynicism and its companion, corruption. As Dragan Antulov, in his excellent Croatian-based blog,
Drax Blog III
, points out, "Croatians travelling on business prefer old roads (over the new super highway) and for one very simple reason – road toll is highest in Europe." As I was speeding along at a 150 km/hr clip, I tried to juggle the pride and corruption thing in my head. The BMW's, Audi's, and Saab's blowing past me, at a 200-220 km/hr clip, however, kept my thoughts to the single one of keeping my hands firmly on the steering wheel, lest our car get caught up in the backwash of the passing cars. The road was remarkably fun to drive and the rest stops a welcome stop for refreshments and photo ops.
If there is any opportunity for a cafe (I prefer the Croatian "kafica" (little cafe)) to be squeezed into a space where people can sit and ponder life's fickle ways, it will be taken. An outcrop of rock hanging over a precipitous 500 ft. drop? Of course! On the coast, everybody's a business man/woman and every place is a spot to serve coffee and cake. Parking may be a chore/adventure and your car may be dented upon your return. But hey!, there's a fellow down the road who can take those dents out, easy. And while you wait, he'll offer you a cup of coffee at
his
roadside kafic so you can enjoy his hammering and banging while stirring the kavicu, searching for trip premonitions.
Labels: Croatia
Wednesday, August 10, 2005
Frankopanska Torta
Among the multitude of unwelcome tourists that have travelled to, through, and over what is modern-day Croatia were the Austrians and Hungarians. Titled as lords, dukes, and counts, they usually repeated the standard ritual of pre-1950 era history in that part of Europe with your usual pillaging, raping, taxing, and other forms of behaviour guaranteed not to get them invited for a return visit. The
Frankopans
were a Croatian-Dalmatian family that came to power when Croatia (at least in its form at that time) joined the Kingdom of Hungary somewhere in the 1100-1530's to try to protect itself from other "outside interests". This was about the time when the Ottomans were interested in "vacationing" in Dalmatia and "exporting" Turkish coffee to the Balkans. No
Bienvenue, Welcommen, Welcome
for this lot. Traveling through the country, vestiges of pillages are still evident along with your token statuary or monument.
One such item still evident comes in an edible form.
The dreaded
Frankopanska Torta
.
It
is not
like our comparative holiday fruit cake, as it is quite tasty and addictive.
It
is
like our holiday fruit cake as it has the weight possible only when baking with ingredients culled from the lower right hand column of the
Periodic Table
. I believe 2/3 of the Frankopanska torta is made from
Lawrencium
, with the highest atomic mass of 262.0. With each successive bite of the torta, I felt the steel tubing of my chairs slowly buckle.
Why it wasn't classified as a weapon of mass desturction, at least in those old days, is beyond me. Perhaps something with 3 inches of schlagge poured on it disqualifies it as a weapon of any sorts. Having been attacked (well...self-attacked as I personally aimed and loaded the cake in the general direction of my full-tilt open mouth) by this gastronomic bomba, I type here with the hazy memories of a sugar high still plucking at the back of my tongue.
How do you describe a cake that has you hallucinating (and I know cannabis was not baked in; it isn't on the Periodic Table)?
My ever-loving wife and one of my cousins who accompanied me on this cake journey insist it had everything to do with timing. Eating this dessert beast in mid-morning was asking for trouble. I'm not so sure, writing this a week after the event. But, I'll go along with their take on things, as morning behaviour, especially during vacation, is always difficult to explain.
You're relaxing.
You're recovering from a previous day that had ended most certainly in a manner due to some morning behaviour on that day which you're still trying to comprehend. Talked me into diving from a cliff, jack-knife, if you please, with sunglasses on because that's the "cool" way to make your water entry? That doesn't sound right now, now being 6:00 pm, well 18:00 really. At 7:00, well 07:00, yesterday? Good plan, that.
Now, if only I can find my sunglasses and a band-aid to stave off the gushing blood on the bridge of my nose, I'd be a content kind of guy.
But today brings more "rosy fingers of Dawn", each delectable digit pointing out possibilities that will be unavailable as soon as we're back stateside. Sleep is as much of an option as possible; my bed back in Delaware will welcome me with open linens as soon as I'm back. Here, sleep is a minor necessity; a mistress best left alone before she envelops me in 8 hours of dreams. This morning's finger is coated with whipped cream; Schlagge, if you don't mind. "Mit Schlagge" is a battle cry I shout out at every dining opportunity here. The cows in the field that we've passed during our journey inland had all seemed content and smiling. The war's been over for about 10 years and, save for an occasional errant step on a, as still, undetected mine, the bovine life is a good life. Roaming the grass covered fields, jamming up summer traffic as you go from field to field, grabbing some shade under the plum or pear trees. Perhaps even a lick of the home-brewed plum brandy from the stills parked by the shaded side of the barn. The cows are happy. The milk is sweet and full. The Schlagge is divine.
How is this torta constructed? Like a fortress. The outer defenses, Schlagge on all sides and then dolloped to a fare-thee-well on top, is intended to stop the amateur eater. Having filled themselves with the outer layer of whipped cream, their eyes glaze over with the remnants of the vanilla sugar and they slowly slink down their seats until the wait-help can prop them up and escort them to a park bench.
The expert dessert eater approaches well-armed. Teaspoon in the left hand, razor sharp-sided fork in another. Bringing a knife into the fray only causes unnecessary Schlagge-shed. With the teaspoon (and an additional plate if the plate the cake fortress sits on is inadequately small), you carefully scrape off most (BUT NOT ALL) of the Schlagge to the side. This is your dessert dipping area. You leave enough of the cream to allow the torta, when sliced with your razor sharp-sided fork, to slide down your throat. The cake is two distinct layers of wafer thin enclosures containing date paste, hazelnut cream, some raisins, and another smooth pasty sauce. On top of these two layers is a sugar wafer marzipan type of cake, which shields the wafer cake concoction from the Schlagge. It's like a tasty U.N. force, only much more effective and pleasant. You slice the cake and sugar wafer into a swallowable piece. You dip it into your Schlagge pile. You open up your mouth and slowly pass your fork past your teeth. Then slowly, oh soooo slowly, you close your mouth and begin the chewing process. If Schlagge passes between your teeth as you close, no worry. That is considered acceptable Frankopanska Torta eating behaviour. Some folks have been known to dismiss chewing as barbarian; they simply close their mouths and let the torta melt into a sauce mélange that slowly winds its way to the gastronomic juices area. This method, while highly admired, poses a problem to the restaurant as lingering past 3-4 hours over a slice of Frankopanska is taken as evidence of poor parenting skills.
If one is to eat a slice of Frankopanska in the morning, one should also be sure to block off some recovery time. That was our mistake. Soon after finishing, we all rushed off. My cousin and his spouse jumped in their car and drove to the market. A bad thing. One should never jostle a Frankopanska in their stomach, at least for an hour or two. He had troubles for the balance of the day.
Frankopanska's revenge.
My ever-loving wife and I also had plans. They were of the pedestrian sort. We lifted ourselves with great difficulty from our chairs. This was not helped by the appearance (at least to ourselves) that the chairs had gotten shorter since our arrival. Like early-morning drunks, we s-curved down the promenade, our speed decreasing with every step. An empty park bench beckoned. We slumped, my hat fell off, landing top down besides the bench. We drifted off to sleep, on wings of Schlagge and hazlenut cream. When we awoke, my upturned hat let us know we were 15 kuna (about $2.50) richer.
10 more kuna and we could buy a slice of Frankopanska!
Pardon me while I zzzzz off.
Labels: Croatia
Zube na Moru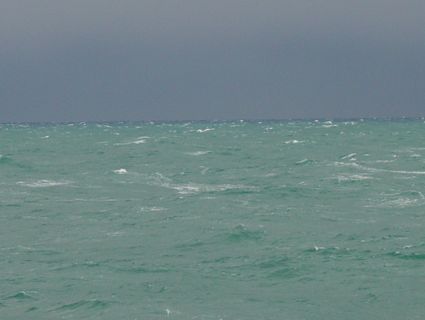 There are two principal winds here on the coast of Croatia.
One is
Jugo
. It blows in from the sea and then northward up the coast and usually brings rain and bad weather with it.
The other is
Bura
. It comes off of the land and blows southward down the coast, clearing up the sky and blowing the rain out toward Italy.
Because of the specific direction of the winds, it's easy enough for a weather clod like me to know which is which, especially when the winds lift up the few hairs left on my head and slant them in their direction.
While sitting at a cafe, alternatively sipping black no sugar espresso and a mineral water, another wind detection method was pointed out to me by my cousin's ever-knowledgable wife.
Zube na moru.
Literally,
Teeth on the Sea
.
Looking out at the Adriatic from our umbrellaed cafe in Crikvenica, you could see whitecapped small waves rolling down the coast.
"Little teeth", my cousin's wife noted, "coming to eat the bad weather away."
I responded with a nod to a slumping waiter.
"Drugi espresso..sa mineralnom".
One more espresso washed down with a mineral water. Maybe a biscuit to chomp down on as our eyes follow the Bura chomping on the rapidly dissolving inclemencies.
Labels: Croatia
Ralphie!
It turned out to be Ronaldo, an Italian Radiologist. That's the way the story ended. If I had not seen the full center spread two page pictorial and article, I would have signed it off as simply another inventive story, delightful in its detail, superb in its execution. I was a hungry shark; my cousin was throwing out his verbal chum, slowly bringing me closer onto the hook. I bit. Again. But, this time he unfolded one of the daily newspapers and showed me that truth can be as dangerous as his deceit.
It started in this manner.
All along the main roads and in the marketplaces, you'll spot signs for
Zimmer Frei, Room, Carrera, Apartman
. Between July 1st and August 15th, prices in some places have doubled or tripled. Immediate cash flow is on high anxiety setting.
Makarska
is a gorgeous little town half-way between Split and Dubrovnik on the Croatian coast. Like all towns along the coast, it survives on the summer tourist season. Obviously, any attention thrown Makarska's way is appreciated. The easiest method of casting attention its way? Some hoi-polloi, in the form of a movie / tv / fashion/ politics star, of course. Hoi Polloi sightings are the first sections of the daily paper that folks look at as they loll and gag in the little cafes and bistros edging along the curvaceous main road of town which wraps itself around the harbor. Best seats in the house for spotting the wealthy arrivals as their yachts and elegant sailboats come to dock.
An acquaintance of one of my cousins is an American of available monies. Along with a few professional association buddies, he rented a black yacht, a visibly noticeable craft tucked amidst the swan-white other ones in the harbor. Being a raconteur of considerable fame, my cousin was invited along for the 5 day cruise. As a joke, he donned a skipper's hat. Being able to distinguish a captain's hat from a top hat was my cousin's limited knowledge of shipboard doings. For a few days, he was cavorting, carousing, and arousing people's interests on the yacht as it lazily meandered in the myriad of islands off the coast. When it came time to unload him, Makarska's dock was picked as the place to dock. As my cousin strolled down the short gangway, captain's hat still perched at a rakish angle, a reporter from a daily national paper came up to him. The yacht was the largest ship in the harbor that morning, so curiosity and scoop hunger were on alert.
"Who's on that boat?"
"Ship!"
"Sorry, who's on that ship?"
My cousin looked around. He saw a gent walking by with a fashion labeled polo shirt.
"Ralphie, of course."
"Ralphie?"
He stared at the reporter, his blue eyes twinkling as he carefully played out a baited line.
"Ralph Lauren, of course." He pointed to a full-head-of-grey gentleman lounging on the ship, drink in hand. "Don't you recognize him?"
The reporter stuttered, pulled out her camera, and clicked furiously.
"How about a picture of you and Mr. Lauren together, skipper?"
"Skipper!?" My cousin thought this was going all too well. He waved to the gentleman on the ship to come ashore. The grey-headed man was more than happy to come down; the invitation must be another story my cousin had to regale him with.
The reporter snapped a shot, asked "Ralph Lauren" a few questions, which were answered in an Italian-scented English.
She rushed off to her offices with a scoop. My cousin and "Ralph Lauren" climbed back up the gangplank, "Ralphie" helping my cousin along as the latter was collapsing with laughter.
He bought the paper the next day. A little note in the right hand corner of the front page about "Ralph in Makarska". The center spread had all of the details, including a short bio of Mr. Lauren. And there were the pictures of my cousin standing next to Ronaldo, the Italian radiologist, aka "Ralph Lauren".
People in the cafes sipped their espressos or spooned their cappucinos and sighed as they paged through the morning paper.
"Here I am in paradise and I have proof that it is! Ralph Lauren came here yesterday."
A pause to stir a spoon.
"How did I miss seeing him?"
"Why didn't he stop by my table?"
They stared out into the harbor with greater interest. The waiter had mentioned a rumour that John Malkovich was sailing up the coast from his hotel in Dubrovnik.
A visit by John was in order, they concluded.
<<< ***
Bonus
*** >>>
("Ralphie" with my cuz, stirring up the newsprint in Dalmatia)
After intensive and time-consuming research on the web, here's the link to the
Vecernji List story
on July 12th of
Ralph in Makarska
. Translation is available upon request and 5,000 kuna in 200 kuna notes dropped off at the Sahara Bar and True Tale Emporium.
Labels: Croatia
Tuesday, August 09, 2005
The Captain is in....and out
Just outside of Dubrovnik, to the north, is the unique and somewhat off the (cliche-ish) beaten path town of
Ston.
It's a small fortified medieval town, lying at the point where the Peljesac peninsula joins the mainland, some 60 km north of Dubrovnik. The most impressive feature in Ston are its fortified walls (a miniature version of the Great Wall of China) stretching for just under 5 kilometers. My cousin, (he of the verbal chum fishing), says that you can see this wall from space; the only man-made object other that the Great Wall that is visible. As my ever-loving wife pointed out, there is scientific dispute these days as to whether even the Great Wall is visible from space. But what's a little National Pride. If my cuz says it's visible, who am I to argue? And why waste the time to argue?
Architecturally, Ston is a curiosity. Its built area is compressed into a small space with streets running from south to west and crossed at right angles by a number of very narrow lanes devised to help the town to defend itself. It was acquired by the Republic of Dubrovnik at the beginning of the 14th Century because of its strategic position to protect the Republic's territory from attacks and pillage.
One of the most important sources of the Dubrovnik Republic's riches was salt, harvested from the natural salt-pens in Ston. These are still being worked today. The majority of visitors are locals from Dubrovnik attracted to Ston by its peaceful surroundings, open countryside for walking, fine wines of Peljesac peninsula and, most of all, for the oysters served in the local restaurants, which come straight from Ston's famous oyster beds.
The local tourist agency encourages one to use
"a self drive car"
as the mode of transportation to see the Peljesac peninsula. There are many orange and lemon plantations on the peninsula and some parts are fertile enough for soft fruit, particularly peaches and nectarines. There are many lemon and orange plantations. However, Peljesac is best known for its south - facing seaward vineyards which produce some of the best wines in Croatia. These include Dingac -an expensive full-bodied dark red wine with high alcohol content and Postup not as heavy as Dingac. Personally, just seeing a
"a self drive car"
would be worth the trip.
Pressed for time, only a visit to one of Ston's famous restaurants was possible. So, off the Magistrala, we drove to
Kaptenova's Kuca
.
The
menu
is imposing and tempting, but (obviuosly) leaning toward seafood. Most folks make the trek for the oysters, mussels, and shellfish unique to this region.
They also come for the "special" service.
After being seated in the restaurant, with a view of the small harbor, a glass of the local red wine, Dingac, washes away the kilometers spent dodging cars, trucks, and bathers on the Magistrala highway.
The waiter comes by. He seems to be minimally dressed. Speedos and an easily removable vest. With no a/c it must get hot here in the outside dining area. He takes our food order, including our initial plate of the renowned
Stonske kamenice
. He turns from the table and walks off. But not in the direction of the kitchen. The sea seems to have beckoned him. With the smooth transition only possible from repetitive motion, he takes off his vest with one hand and dons a facemask from a pile of facemasks on a table close to the harbor's edge. With a skip, stop, and a jump (one hand on the facemask), he executes a razor edge dive into the water.
Hmm.
Must have caught him just before breaktime.
10 minutes later, we seem him climbing up the stone stairs built alongside the docks. He has a bag in one hand and he's taking out a knife from his speedos in another. He veers off to the side to pick up a plate onto which he empties the bag's contents. Another waiter had already placed a plate full of sliced lemons on our table.
Our waiter stops by our table and carefully opens each Stonska kamenica for us, water still dripping from his hair and arms.
We clap for his perfomance; he actually seemed to blush. Then we dig in, squirting the lemon juice in all directions out of excitement and hunger.
Labels: Croatia
Monday, August 08, 2005
Back in a Bit
To my patient readers, who have seen no activity here in the past 2 1/2 weeks, I offer my apologies. I thought I was going to be blogging from the Land of the Croats. Internet cafes were available, but my over-riding selfish desire to spend as much of my vacation there with people and with old and new physical sites (and sights) kept me away form the keyboard. I'll be blogging, shortly, of my impressions and of stories heard while lazing on the rocks of the Adriatic, smoke and slivovitz filled konobas, and breezing up the mind-numbing and brake-testing cliff-side Magistrala highway.
It was a fabulous trip back to the homeland and I'm hoping to do it justice.
Shortly.
Short story to keep up interests.
A cousin, deeply into the import-export side of business in the Land of Croats, offered the following as an example of the "alternative" side of economics, as practiced in the neighboring country of Bosnia & Hercegovina (B&H).
There's a small village not too far over the border between Croatia and B&H, where automobile purchasing is combined with innkeeping. The town shall remain nameless; this story will not serve as unpaid advertising. If one has a strong desire for, say, a 2004 BMW 5 series but is unwilling to put up the $70k for such a finely engineered vehicle, a drive to this little village may be in order. Once there, you go to a certain little inn, where you sit down and order a Turkish coffee, a mineral water, and a rakija. In that order. The waiter then asks you if there's anything else you want to order.
You pause. You think. You dream.
Yes. A 2004 BMW 5 series. Dark blue. Dark leather. Red trim.
He notes this all down, leaves, returns with a suggested price. No negotiations. A simple nod or a shake of the head.
"No problem. Enjoy your coffee. 4 hours, tops.", the waiter says.
Sometimes the specific requests are detailed enough that 2-3 days may be necessary. In that case you stay overnight at the inn and enjoy the roast lamb each night. A bottle of rakija o n the house.
The car is delivered as ordered. Some poor German or Austrian vacationing in Croatia is left without a ride. The VIN#'s are replaced. "Legal" ownership transferred to your name. You slip the envelope to the waiter; he hands you the keys. You cross the border with no questions asked, your elbow resting on your almost new car. The gas tank is even filled.
My cousin sighed after he had told this story. He was in car sales for a while, until he realized he couldn't compete with the price (1/2 less than he could offer) nor with the speedy delivery time (2-3 months v. 2-3 days) of his B&H competitors.
"Of course, all this will disappear if B&H wants to get into the E.U.", he says.
"But, why would they want to get into the EU, at this point?", he adds.
He winks. A loud laugh. A shrug. A clink of glasses. We get up. Take a step or two from our chairs at the bar and dive into the blue Adriatic.