Thursday, October 23, 2008
What's Wrong With This Picture?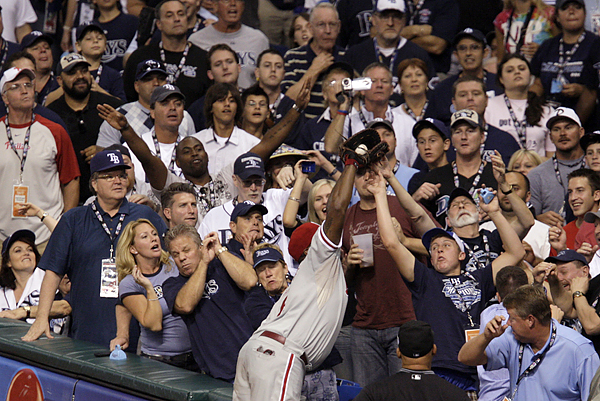 The fielding-maligned Phillie Ryan Howard snags one two rows deep in the Tampa Bay Rays' stadium for an inning ending out.
This play has been one of the most talked about events of last night's
3-2 Phillie victory
. Sports talk radio hosts and callers have been yapping most of this morning about the TB Rays' fans and their, uhmm....
"lack of commitment"
. A typical caller opined that, "This (The Catch) would never happen in Philly. Come on! An opposing player making a play in a sea of Philly Phans? No F*%$ing way! (he was beeped out when in full throat delivery). He'd have his arm broken and his glove removed."
Another phan simply stated that if a Tampa Bay first baseman tried that play in Philly said first baseman would have been mugged. Regardless of the fact that fans are paying $3,500+ for those choice seats?
Fugetaboutit
! (Hmmm, why isn't "fugetaboutit" listed
here
as well?) Money's nothing when Philly's hometown honor is at stake.
I'm happy with 1 win out of 2 in Tampa Bay; don't want to be greedy about tonight. Saturday, it's Philly time. Keep your hands cupped closely to your children's ears. Philly-speak will rule. For a true fell of the game go
here
and then click on the Philly station
1210 AM (WPHT-AM)
to listen to the Phillies' announcers. A World Series demands a partisan set of announcers.
Labels: Philly
Comments:
Post a Comment
Links to this post:
<< Home
Verging on Pertinence
Just some more disposable thoughts clogging up the hinterlands