Monday, April 12, 2010
Fraser stars in Flyers 2-1 Shootout Victory over NY Rangers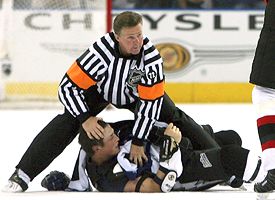 In
a must win game
to extend their seasons, the Flyers and the Rangers played a tense action-packed, low-scoring, no stupid penalties (an unbelievable action of self-control by some of the hot-headed Flyers..whose names shall go unmentioned) game where the loser goes out to the links and the winner gets to play, in the case of the Flyers, the NJ Devils. A background story to this drama was a certain Mr. Kerry Fraser, who was refereeing his last NHL game. This game marked his
1,901st game
, the most ever by an NHL referee. The guy's 57 years old and he was still skating strongly out there for 60 minutes plus. With his signature coiffure, almost as fastidiuos and famous as
Jimmy Johnson's
, Mr. Fraser was alwasys the epitome of calm amidst the storm of sharpened blades, hot tempers, and jousting sticks that makes hockey, IMHO, still the most entertaining and exciting of any professional sports (that and the fact that you never hear a hockey player whine).
The psort will certainly miss Mr. Fraser's judgement and his lve for the game. At 57 and fit as any human being could be at that age, I hope he decides to sit down and write a health maintenace book. Skating at that age, at that level, and at that long of a stretch of time is absolutely unbelievable! What's his story on this? Clean living or massive application of hair gel?
A down-in-the-mouth Toronto Maple Leafs (can you buy him a grammer book, please?) fan (is there any other type?) offers a list of Fraser-isms. Nothing like misery to make the mind sharp and the pen, sharper still. So, here now
Sean McIndoe's list
.
Comments:
Post a Comment
<< Home
Verging on Pertinence
Just some more disposable thoughts clogging up the hinterlands