Wednesday, March 19, 2008
Mysterious Sandwich Saves Philly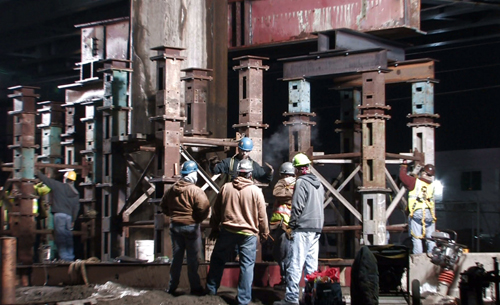 Per
this article
, it seems some sandwich, prepared in the
Port Richmond
section of town may have been responsible for averting a major vehicular disaster.
Who says Philly sandwiches are
heart and life threatening
?
The article mentions sausage sandwiches were digested from some restaurant in Port Richmond. Never realized that chomping on sausage was as effective as munching on carrots for improving one's eyesight. But, sausage seemed to do the trick for the eagle-eyed engineer who spotted the rather huge crack in a bridge's support column.
I'm willing to bet the sausage sandwich came from the famous
Tacconelli's Pizza
joint. I'm sure, there'll be a picture of the engineer, sausage hoagie in hand, posted inside the shop very shortly. So, go with the traditional Philly Sausage Hoagie as the Hero/Hoagie of the Day
Comments:
A sandwich, eh? My wife has a nephew in Ottawa who would attribute life-saving properties to a genuine Philly cheese-steak. While I will happily consume both (and pay the price for it) I'm still a
poutine
man, to the marrow (and arteries).
Post a Comment
Links to this post:
<< Home
Verging on Pertinence
Just some more disposable thoughts clogging up the hinterlands