Monday, August 23, 2004
New Bird in Town
Been a while since I last spewed; the annual
Carting of Stuff
occurred last week. Thank God there are no tariffs between states. Otherwise, the bills for college would be sorely increased due to the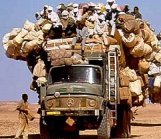 college bound youth we ship out to Ohio. "Less is more" is a battlecry gone the way of "Tippicanoe & Tyler, too". I must admit that it is easier hauling cd's than albums; my college days saw me getting helper springs attached to the underside of my car on my own annual carting. So the reduction of albums to cd's should logically mean less physical space being used. Or so I was thinking as I was hauling another box of stuff into the car. It must be the expanding universe I was packing into the Honda,then. While out in the wilds of mid-America, I missed the latest bit of news regarding those loveable Orioles.
Aside from their having (another)lousy year in Camden Yards and their owner backing an Olympic team seemingly cursed by Hydra, what with their bad luck, it turns out they screwed up a great opportunity to add
utility fielder E. Van Halen
. So, instead of having an aging
but energetic
rock star playing in their infield (well.....o.k...playing a guitar..in their infield..when the O's themselves are not playing..well, not playing a scheduled game), they'll be forking over a bunch of money that they could have used to bolster their sad pitching staff. Oh where are the O's of Memorial Park?
Comments:
Post a Comment
Links to this post:
<< Home
Verging on Pertinence
Just some more disposable thoughts clogging up the hinterlands